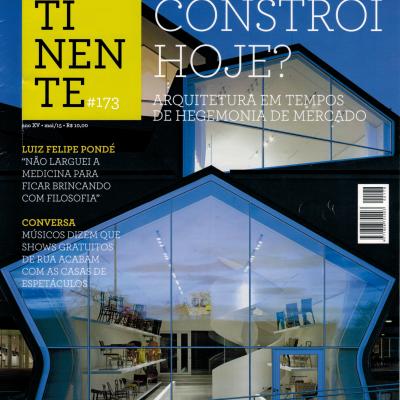 The Center featured in Brazil's Continente Magazine
Co-Directors Pliny Fisk and Gail Vittori are featured in an article titled "Protagonismo Arquitetura Remodelando O Mundo" in Brazil's Continente magazine. As the basis for the article, author Luciana Veras interviewed the Co-Directors on The Center's history, its design methodologies, and best practices in healthy and sustainable design.
The article is in Portuguese, though in one quote from the Co-Directors' interview with Veras they explain what they believe should be core archictural philosophies in the face of rapidly evolving urban issues: "Architecture needs to be responsive to changing realities. Buildings benefit from use of a new system dynamics that facilitates their evolution as they change over time to become more socially, economically, and environmentally alive. We need to think more in a way that recognizes that buildings are served by a flexible infrastructure spine and are intrinsically advancing a healthy urban metabolism. Urban design and architecture should allow patterns of use to influence the performance of the spine in a mutually responsive manner – i.e., becoming a source, a re-sourced processor, and a user – it is only in this way that a truly resilient and healthy city can evolve."
View the full article here.