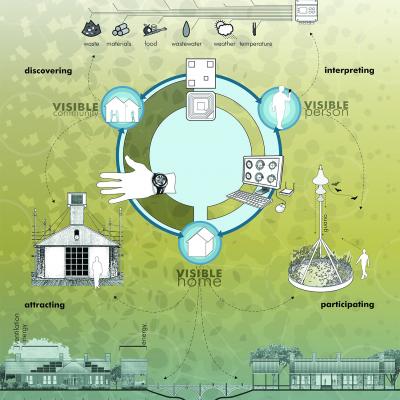 Lenses for a Maximum Potential Future: Visible Green
In our Winter 2015 newsletter we described our 12 Lenses for a Maximum Potential Future. We've created these Lenses so that each presents a different method of understanding the world. The Lenses support planning practices that incorporate the specific location and client, and purposely try not to project the "one size fits all" approach.
In this newsletter we'd like to introduce our 'Visible Green' Lens. This Lens focuses on the pathways to reveal the long term potentials of sustainable design and planning through: (1) self discovery using key cues in the designed environment, including descriptive iconography, (2) a means for interpreting processes through digital connections to more complete information, (3) attracting the viewer through the beauty of design that visibly demonstrates how things work, (4) participation that enables the viewer to build or use eco-technologies of a wide variety often presented in kits for actual construction.
The Center has incorporated all of these methods. For example, The Center's demonstration site displays strategically placed iconography that contains basic information and sometimes enables access to a further depth of information by incorporating such software as Aurasma, which actually uses the icon itself to trigger a short film through a picture taking app. Other examples include prize winning building designs that invite wonder into what a maximum potential design could be. We have also provided TIY ("Try-It-Yourself") manuals that enable one to actually build and use solar water heaters, solar greenhouses, bat towers, grey water systems, food systems, and other programs.
The Visible Green Lens posits that sharing information is vital to a sustainable world. How can we expose and promote both visible and invisible green at different levels of society - as individuals, households, cities? How can we "tell the life cycle story" of the products that surround our lives when they are harder to see? This Lens catalyzes these questions as we build infrastructure and buildings at all levels.
We share these Lenses in hopes that the state of "maximum potential" can reach ever higher plateaus. We love discussing them with you! We welcome your questions and comments about the Lenses via our social media; just use the hashtag #LensesforMax.