Generous Art Studio Sale Featuring the Work of Emily Moores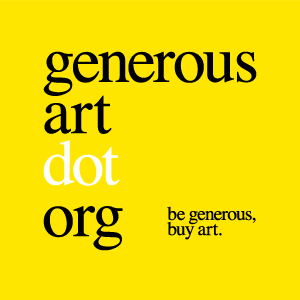 CMPBS participates in Generous Art, an online art gallery dedicated to raising money for nonprofits and artists.
Generous Art is hosting a studio sale on February 5, 2012 to present the work of Emily Moores. Emily is a graduate from the Cleveland Institute of Artwhere she majored in Painting with an emphasis in Visual Culture and Theory. Emily has exhibited her works at the Dougherty Art Center, Pump ProjectArt Gallery, Morgan Conservatory, Zygote Press, and The Cleveland Foundation. She lives in Austin, works at Whole Foods, and is a member of the Women Printmakers' Association.
The studio sale will help Emily raise money to attend a residency at the Vermont Studio Center in March. Keeping in line with Generous Art's mission, 40 percent of the proceeds from the sale will also benefit a charity of the buyer's choice.
Emily's artwork is abstract and esoteric, with graceful consideration of space. Her drawings and prints can be viewed at GenerousArt.org from January 21 through February 12. Guests may purchase art online before the event or wait to see the art live on February 5. All of the artwork presented at the show will be on paper between 5"-24", $60 - $350, and unframed and framed.
When: Online: January 21-February 12, 2012
Live Event: Sunday, February 5, 2012 from 3:00 p.m. until 6:00 p.m.
Where: Texas French Bread
2900 Rio Grande St
Austin, TX 78705
Entry: The event is free and open to the public. Refreshments will be provided at the event.
About Generous Art:
Generous Art is an online art gallery dedicated to raising money for nonprofits and artists. Generous Art envisions art purchases as community-oriented transactions – rejecting the idea that art collection is a selfish endeavor or an isolated event. Generous Art's purchase process simultaneously funds the artist (40%), a nonprofit of the buyer's choice (40%) and the mission of Generous Art (20%).